February 18 2016
Operation HOPE INSIDE Macon-Bibb County - Citizens will now have a Voice and a Choice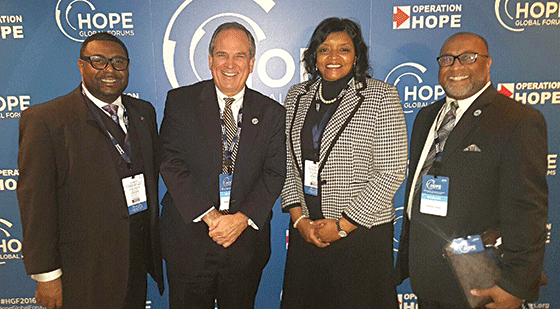 Macon-Bibb County Economic Opportunity Council, Inc. (Ms. Sarita Hill, Executive Director) and the Macon-Bibb County, Office of Small Business Affairs (Dr. James Louis Bumpus, Director) are partnering with Operation HOPE, Inc., a membership organization focused on empowering underserved communities. The Macon-Bibb County chapter will be called HOPE INSIDE Macon. The office is located at the Buck Melton Community Center at 150 Sessions Dr. Macon, Georgia, 31204.
Operation HOPE Global Annual conference was held in Atlanta at the Marriott Marques during, the week of Dr. Martin Luther King's Celebration. Over 2,500 attendees were present as well as corporate sponsors, Coca Cola, Apple Computers and SunTrust and etc. To see other corporate sponsors visit OperationHOPE.org
The desire is to develop a mid-sized city Operation HOPE INSIDE model. "By employing the Operation HOPE model in Macon-Bibb, the economic stability of our community will improve. To that end, we have moved forward to establish HOPE INSIDE Macon-Bibb County," Dr. Bumpus said.
John Hope Bryant, Founder, Chairman and Chief Excusive Officer, explained, "The mission of Operation HOPE, Inc. (HOPE) is a silver rights empowerment for everyone. We accomplish this through our work on the ground as the nonprofit private banker for the working poor, the underserved and struggling middle class. We achieve our mission by being the best-in-class provider of financial literacy empowerment for youth, financial access and inclusion for communities, and untimely, financial dignity for all." For more information visit OperationHOPE.org
According to OPERATION HOPE, 2.5 million individuals have been served, $1.8 Billion under-served communities have benefitted from Operation HOPE, 80.22% of every dollar donated to HOPE goes directly to the programs, 1,686,931 adults have been educated through empowerment programs and 880,000 youths have been educated in more than 3, 176 schools and community organizations.

"The community has spoken, Individuals want to better equip themselves financially will support the HOPE movement. "I've been in the banking industry prior to and post 2008 when the bottom fell out of the economy taking individual hopes and aspirations right along with it. We're here to restore that hope along with a sense of financial dignity and empowerment. I can say with strong conviction that Macon-Bibb County will be an emerging market for the future, filled economic opportunities and endless possibilities," said Mr. Harvey.
Also, since 1992, HOPE has been teaming up with financial institutions, city governments, and community-based organizations (CBO) to deliver financial literacy education.
Macon-Bibb County Economic Opportunity Council, Inc. is functioning as the lead agency in the establishment of the HOPE INSIDE Macon Center.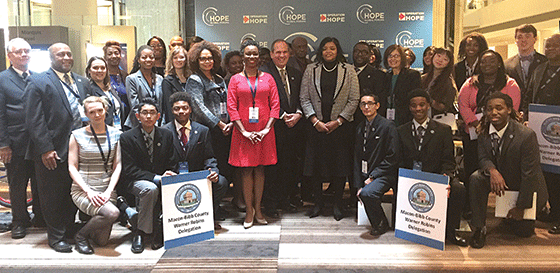 Macon Bibb County and Warner Robins Delegation
The center Dr. Bumps said, "Operation HOPE INSIDE Macon-Bibb County will engage the best practices for promoting human financial dignity and economic inclusion. The Macon-Bibb County Community is ecstatic about our first HOPE INSIDE Center. Through the work of HOPE INSIDE MACON-BIBB, we are anticipating an economic revolution. Citizens of Macon-Bibb County can expect the center to open in February 2016."

Sheknita Davis heads the Workforce Development as its director and says that her department will be an advocate of the program and will encourage participation.

Daniel Henley, Jr., with Modern Woodmen of America, works in one of the trenches (educational) of fiscal empowerment as a financial advisor. He says, "Operation HOPE INSIDE Center has game changing potential as a vehicle of community change through the improvement of credit throughout Macon-Bibb County. Credit is what runs the world. It's going to be very important to be a part of any initiative that pushes your credit score above 700," he says.

Macon-Bibb County, Office of small Business Affairs, Macon-Bibb County Economic Opportunity Council, Inc., Macon Housing Authority, Mercer University, and the P.I.C.D. are all committed to supporting and collaborating with the Operation HOPE INSIDE Macon-Bibb County.
The Macon-Bibb County Community was introduced to the Operation HOPE model in January of last year. Shortly thereafter, a delegation of ten representatives from various sectors of the Macon-Bibb County community was hosted by Mr. James Bailey, Mr. Darrick Graham and Ms. Tara Dennis of Operation Hope, Atlanta. Macon-Bibb representatives included Rev. Frank Broome (Corporative Baptist Fellowship of Georgia) Rev. Ronald Toney Baptist Church), Mrs. Patricia Toney Lizzie Chapel Church), Sarita Hill )Macon-Bibb County Economics Opportunity Council),Nequanna Stevens )Macon-Bibb County Economics Opportunity Council), Mr.Calton Williams )Economic Opportunity Council), Mr. Frank Austin (The Austin Smith Center), Ms. Wanzina Jackson (Macon-Bibb County, ECD), Mr. Charles Coney (Macon-Bibb County, OSBA. In addition to members from the Macon-Bibb delegation and Operation HOPE team members, executives for the State of Georgia Division of Family and Children Services met as well. Among the DFACS executives were Ms. Joycelyn Fowler (Director, CSBG and LIHEAP Programs, David D. Chester (Project Administrator, CSBG and LIHEAP), Jerry Battle (Project Administrator, CSBG and LIHEAP). These community representatives worked collaboratively throughout last year to identify resources to support the Operation HOPE Inside Macon Center. At present, the South Eastern Market President for Operation HOPE, Inc. is Mr. Louis Negron. Mr. Negron said, "We, at Operation HOPE are looking forward to our collaborative partnership with the Macon-Bibb Community as we work to change the lives of people through financial dignity."

The operation HOPE INSIDE Macon Center is staffed by Ms. Shurnell James and Mr. Harvey, an adult management Counselor. They can be reached at 417.718.9956 or at danquariusharvey@operationhope.org. Both come to the work as highly skilled and seasoned financial professionals. For more information call Harvey, an adult financial counselor at 478.741.9881. The Operation HOPE INSIDE Center is located inside of the Buck Melton Community Center at 150 Sessions Dr. in Macon, Georgia, 31204.

Bryant explained, "There is a difference being broke and being poor. Being broke is temporary economic condition, but being poor is a disabling frame of mind and a depressed condition of your spirit and you must vow to never, ever be poor again. "